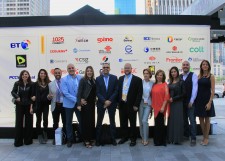 CHT Holdings invited the telecoms industry to unite around CSR actions at the International Telecoms Week
Fort Lauderdale, Florida, May 19, 2017 (Newswire.com) - During the International Telecoms Week's (ITW) 10th-anniversary event, CHT Holdings announced the launch of its Social Responsibility Program and invited peers, partners and attendees to join in social responsible actions.
With a steady business growth and a key industry position in the telecommunications field, CHT Holdings introduced its CSR plan to business partners during its presence as prime sponsor for ITW 2017, the largest annual global meeting for the telecoms industry; a platform for over 6,500 delegates from almost 2,000 companies worldwide.
Throughout the event, held in Chicago, IL, from May 14th to the 17th, CHT Holdings' telecoms division (MSG Telco, VPS International and Varsatel Corporation), generated awareness within the industry to join forces and engage together in sustainable activities to positive impact the world. 
"The feedback and reception — it's been amazing. It's time to give back and add value to society," said Harrison Vargas, CHT Holdings' CEO, regarding the response from the delegates of attending companies from all over the world.
CHT Holdings' CSR platform is also creating awareness within the technology industry thanks to Appvise, an innovative communication platform that allows educational centers to prevent, detect, treat and follow up bullying cases.
Source: CHT Holdings
Share: